Programme for 2021 Insurance Data Science conference online
Book your ticket by 9 June 2021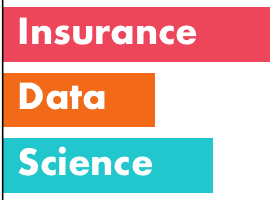 The programme and abstract booklet for the 2021 Insurance Data Science (16 - 18 June) conference (fka R in Insurance) is now out! We are very excited for a great range of speakers and topics.
Download the Programme and Abstract Booklet
Book your ticket for this three half day event by 9 June on Eventbrite.
The conference fee for the Insurance Data Science conference is:
Practitioners: £150
Academics and Postgraduate Students: £50
Thanks to our sponsors Swiss Re Institute and Mirai Solutions GmbH!
For more information visit: https://insurancedatascience.org
Citation
For attribution, please cite this work as:
Markus Gesmann (May 10, 2021) Programme for 2021 Insurance Data Science conference online. Retrieved from https://magesblog.com/post/2021-05-10-programme-for-2021-insurance-data-science-conference-online/
BibTeX citation:
@misc{ 2021-programme-for-2021-insurance-data-science-conference-online,
 author = { Markus Gesmann },
 title = { Programme for 2021 Insurance Data Science conference online },
 url = { https://magesblog.com/post/2021-05-10-programme-for-2021-insurance-data-science-conference-online/ },
 year = { 2021 }
 updated = { May 10, 2021 }
}